KAYEC gets NQA accreditation
|
The Namibia Qualifications Authority (NQA) has added KAYEC to the list of 41 training institutions that young Namibians can trust to meet its high standards of quality.

For years, the NQA has warned Namibians not to put their education at risk by studying at "bogus" institutions – and on 11 December, it announced that KAYEC has built one of the training programmes that it will stand behind.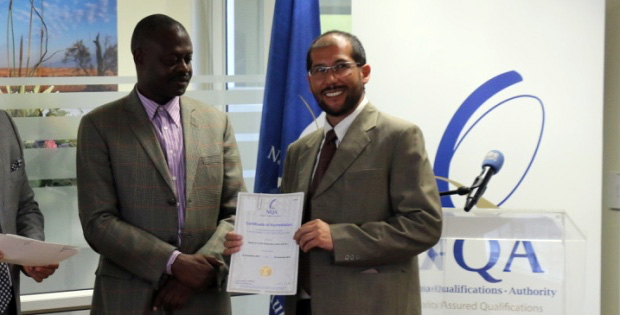 Hon. Itah Kandjii-Murangi, Minister of Higher Education, Training and Innovation, said in a speech read by NQA council member Vitura Kavari that "It is no mean feat" when institutions earn this accreditation. "This means they are committed to contributing to the national goals." She described equitable access to education as an issue of human rights, adding that "success in life – this journey starts with study at an accredited institution."
KAYEC began offering vocational training in 1995, to help combat youth unemployment after independence. Thousands of young Namibians were unable to upgrade their skills within the existing system, which required passing marks in Grade 10 for any further study, including vocational courses. For decades, KAYEC developed a specialised curriculum to help these youths get back on the ladder, through major funding from the U.S. Agency for International Development. In 2014, the Namibia Training Authority agreed to work with KAYEC on low-cost trade courses, so that unemployed youths can build formal educational credits. NQA recognition marks a milestone in these efforts to make sure all Namibians can access their right to education.
See what others are saying about this story
New Era reports: "No Namibian deserves sub-standard education"
NBC News photo coverage on Facebook
NQA's updated list of accredited institutions (PDF, 805 Kb)