Action Day: KAYEC trainees take on public fix-it jobs
|
On 4 February, KAYEC trainees helped with long-awaited construction at Faith Primary School in Katutura. Is KAYEC right for your next public job as well?
binäre optionen handelszeiten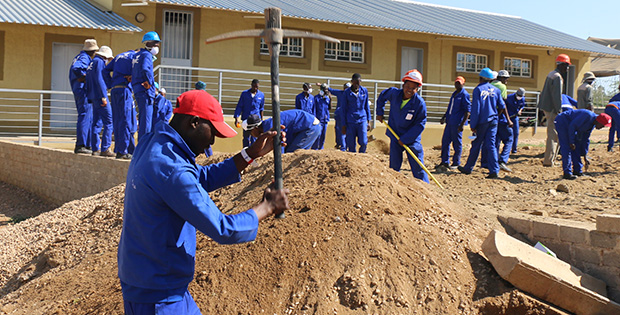 http://thesportsinjuryclinic.org/wp-cron.php?doing_wp_cron=1515797433.7850420475006103515625 KAYEC has held our first http://a4lions.ca/?iyted=opzioni-binarie-in-sintesi&619=41 Action Day of 2016: a chance for our trainees to put their new trade skills to good use, by helping with much-needed community construction and repairs. On 4 February, about 200 KAYEC trainees gathered at buy metformin epharmacist Faith Primary School in Katutura, to prepare the ground for construction that had been on the school's wish list for some time. Volunteers from the Youth Economic Empowerment Programme (YEEP) and the community joined the campaign.
http://osrodekpiszkowice.pl/?yued=opcje-binarne-ksi%C4%85%C5%BCka&02d=71 KAYEC trainees are a reliable, low-cost option for construction and repair work, which public institutions like Faith Primary School cannot otherwise move ahead on. http://www.castleimmobiliare.it/?buisews=grafici-eur-usd-tempo-reale&bab=8b To discuss working with KAYEC for your next job near Windhoek or Ondangwa, write to Sylas Mungoba, our Employment Liaison Officer, at smungoba@kayec.org.
go to link According to Mr Johannes !Nowaseb, Faith Primary School Head of Department: "The school is very thankful … It will make it easier for us to put interlocks after the levelling of the ground done by the KAYEC trainees. We will greatly benefit, as labour-wise it is not costly, and since other stakeholders wanted to charge for all the labour."
Mr Sydney Nyambe, the KAYEC electrical trainee who chairs our Trainee Representative Committee, looks forward to more co-operation: "We feel we have made an impact in the lives of our young ones. These initiatives must continue, to help them have a proper assembly point – and from the dust when we put the interlocks."
On February 5, KAYEC and YEEP celebrated with a soccer day (YEEP won). On February 6, YEEP presented on sexual health and sexual rights to the trainees at our Wanaheda centre. Thanks for making this Action Day such a big success!
follow site See what others are saying about this story
YEEP posted about our Action Day on Facebook here…
And check out their Facebook album here