Great Sun story makes 1 surprising blunder
|
The Namibian Sun just ran a beautiful piece about why KAYEC does the work we do. You'll be surprised at the one thing they got wrong…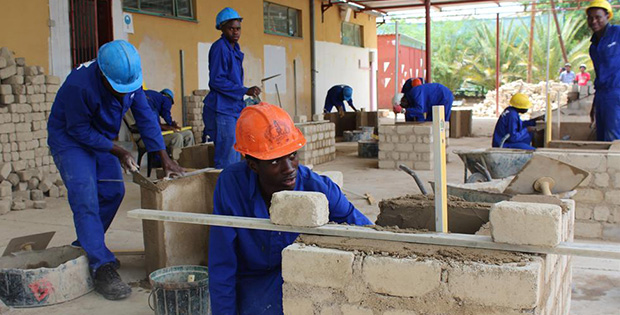 "Levelling the Playing Field" is an excellent article from the 1 March edition of the Namibian Sun: It goes beyond a simple list of KAYEC's skills training courses, to explain in moving terms why they're critical for so many young Namibians. According to the article, KAYEC "comes in response to the crisis generated by escalating unemployment levels among Namibian youth … KAYEC focuses on assisting those who have failed in the schooling system and who without projects such as KAYEC, would not easily be able to access any vocational training."
It also breaks the news about a brand-new KAYEC service: the upcoming incubation centre at our Wanaheda site. As the Sun reports, "When in full operation, the incubation centre will have welding, automotive and carpentry tools for hire. The centre will also serve as a centre of operation for the small businesses."
So what's the blunder? On the topic of KAYEC's other programme, our school support for children still in primary and secondary, the Sun says "operations had to close" – when in fact they are very much alive. FNB and B2Gold mining are funding KAYEC school support centres in Rundu and Otjiwarongo this year (see our blog post), and we are meeting with other companies to continue our centres in Windhoek, Outjo and Ondangwa.
It is true that the last three centres "are all being facilitated by volunteers," until they find new funders – which is why we are grateful for the Sun's message, that we are calling "donors to come on board and help realise the objective of empowering children." As Sylas Mungoba, our Employment Liaison Officer, states: "There is so much support that children need especially in times like this when the country's academic performance is below average and children continue to stay out of school."
Interested in corporate sponsorship of our work? Send an e-mail to our Director, Nelson Prada.
See what others are saying about this story
Read "Levelling the Playing Field" in the Namibian Sun