Children came from across Katutura to race at the KAYEC track on 1 July – part of the "Kids on Bikes" initiative backed by RMB and Marathon Sugar.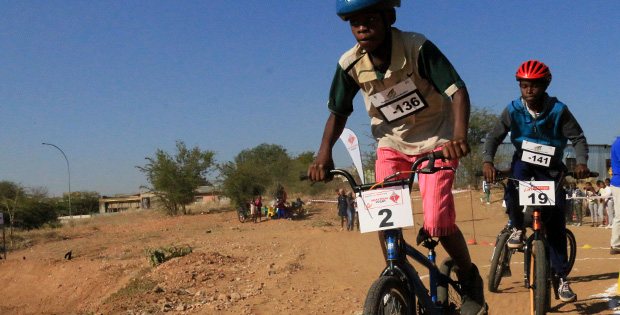 With reporting by Judith Wilhelm, 18 – photos by Immanuel Francisco, 18
On Saturday, 1 July, 43 boys and girls from the former township of Katutura experienced a bicycle motocross (BMX) race in their own backyard, organised at KAYEC with help from the Namibian Cycling Federation. Children joined from eight local schools, plus the nearby after-school programme at Physically Active Youth, which has launched the careers of some of the best cyclists in Namibia.
The morning started with "moto" qualifying rounds for girls and boys 12 and under, 14 and under, and 16 and under, followed by finals for the highest-scoring riders, and podium awards. This was the fourth event in a push to bring BMX biking to all corners of the country, under the Namibian Cycling Federation's "Kids on Bikes" initiative. It is made possible by partners who believe in the athletic potential of Namibian youths: lead sponsor RMB Namibia (through FNB Namibia Holdings Foundation Trust); and Marathon Sugar (owned by Tongaat Hulett Namibia), which co-funded the community track at KAYEC, along with eight bicycles and equipment to put our children in motion.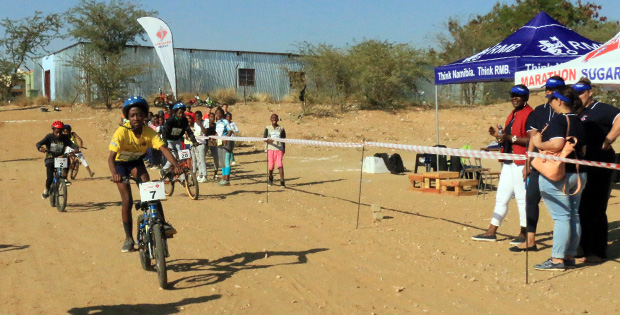 "Kids on Bikes" is a five-year plan working in eight regions of the country, to help girls and boys five and up learn to race bicycles in communities that had never seen this sport before 2017. On 4 March, 109 children took part in a BMX bicycle challenge in Rundu, in the north-east; on 18 March, 116 joined in Omuthiya, in the north; and on 8 April, 68 met in Windhoek, in Namibia's central region. RMB Namibia has sponsored events and the purchase of community bicycles and safety equipment for Gobabis, Okahandja, Omaruru, Omeya, Omuthiya, Outapi and Rundu, and it is planning a permanent children's BMX track at the KAYEC school support centre in Rundu.
According to Odille Wellmann, who represented RMB Namibia at the KAYEC event: "We want to help with childhood development in sports. This BMX event also helps them feel confident, and it teaches them that whenever they fall they should always stand up."
Genevieve Fisch, Marathon Sugar Marketing Manager, agreed: "We support youth through sports. We do things that uplift them. This evet will also help keep the children off the streets: We have to invest in our youth, because they are the leaders of tomorrow."
BMX is enjoying a global boom: It became an Olympic sport in 2008, and it fits the 2016/2017 priorities of the Namibian Ministry of Sport, Youth and National Service, which named cycling as one of five sports "to be rolled out in all 14 Regions of the country," along with wrestling, hockey, gymnastics and rugby. BMX uses obstacle tracks originally designed for motocross motorcycle racing, but on sturdy pedal bicycles instead. The safety of riding far from road traffic, combined with the fun of tightly spaced "roller" hills and steeply banked turns, makes BMX an ideal entry point for younger girls and boys with an interest in cycling.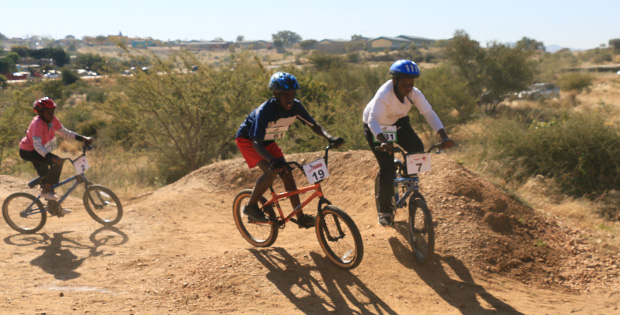 Below are photos of all the day's winners – for more photos, check out this Facebook post from the Namibian Cycling Federation.
The next Namibian BMX Challenge will be in Omaruru, 12 August 2017, and finals will follow in Windhoek in September. Entry is free – watch the Namibian Cycling Federation webpage for details.
See what others are saying about KAYEC cycling
11 November 2016 – The Namibian reported on plans to open our community bike track
30 January 2017 – The Namibian Sun announced the launch of KAYEC's biking programme
10 April 2017 – The Namibian Sun covered the nationwide BMX boom, including the BMX challenge with KAYEC Rundu on 4 March