Applications for the Second Intake of 2023
Are Open
Our courses include training in English Communications, Numeracy, HIV prevention and Entrepreneurship. Bring your own safety boots – we will provide you with overalls.
KAYEC does not give refunds on payments made.
CONDITIONS:
Application fee – Non-refundable N$50.00.
Banking Details:
Bank Windhoek
Account Name: KAYEC – NTA
Account No: 8001857831
Branch Code: 481972
Reference: Applicant name and surname
The sample only below: John Peter Course – Electrical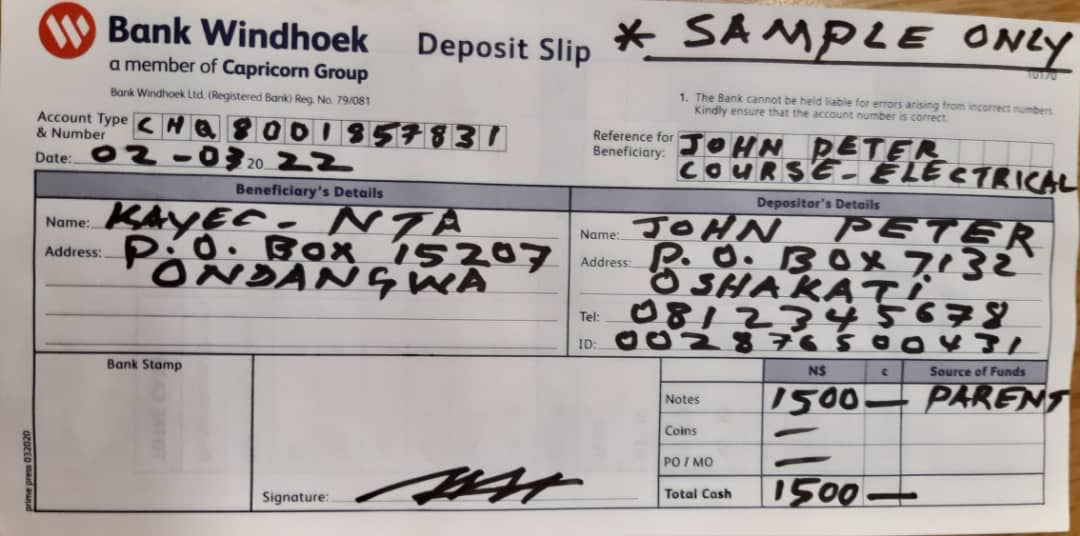 Successful candidates must pay a non-refundable fee of N$1500.00 payable at registration, another N$1500.00 payable in two installments latest by September 2022.
KAYEC CANNOT refund any payments that you have already made.
Fill in the areas on the application form using BLOCK LETTERS with black ink.
Attach copies of all relevant certified supporting documents: Applicable highest qualification obtained, ID or Birth Certificate or Testimonial, etc.
Please read all information/Instructions/KAYEC Trainees' Code of Conduct (Rules/Regulations) before signing.
Important Dates:
Applications commence: 1st March 2023
Training will start on 13th July 2023, and all trainees are expected to be at the center strictly at 07h15.
Registered candidates who fail to report on the above date will immediately be replaced by those on the 
Costs
N$3,000.00
Payable at Registration N$1,500.00
Before the end of September N$1,500
Night course 2022 (six months)
Monday–Thursday 16h30–19h30, Saturday 8h00–16h00 – 18 years and older
Electrical General 
Day courses 2022 (six months)
Monday–Thursday 7h30–16h30, Friday 7h30–12h30 – 16 years and older
If interested in any of our courses, come in person to any KAYEC training centre near you Windhoek – Wanaheda or Ondangwa. We'll help with the rest! There are no entry requirements. Low course fees – Start your career with excellent training.
All you need to bring is:
A certified copy of your ID or birth certificate
A certified copy of your highest school grade
Police Clearance Certificate
Half of your course fee (see each course above for amounts)