Petrus starts new Namibian training school
|
A KAYEC after-school graduate made the national news for starting a safety training centre that reduces dangers for Namibian workers.

Petrus, 25 years old, grew up with a single mother in a family of seven children in Northern Katutura. Since 2015, he has run a new institution where Namibians can learn to work as workplace health and safety officers: Boyking Investment & Consultants (BIC) training, at Independence Arena in Katutura. BIC training has so far trained 147 people from 20 companies around the country and the general public, and has built safety skills at companies including Deloitte, the Namibia Red Cross Society and Ohorongo Cement.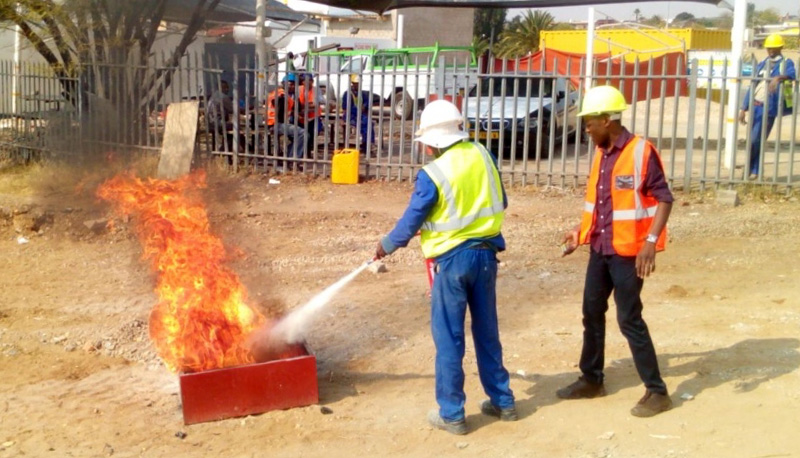 See what others are saying about this story
The Namibian Sun reports: "BIC explores opportunity in safety compliance"
Get in touch with BIC training on Facebook
Check out the KAYEC school support page on Facebook
A graduate of KAYEC's afternoon school support for teens in Wanaheda, Petrus sees the new institution as a way of improving living conditions for all Namibians. "In the townships, you see so many things going wrong amongst young people," he says. "Becoming drunkards, druggies, the actual crime committers in the country – some people who grew up in front of my eyes. But the moment you have a project like the ones BIC and KAYEC have put together, you realise something is moving. Whether they decide to work for somebody, or become entrepreneurs."
BIC courses include Health and Safety (from induction training to specialised training for health and safety representatives, supervisors and officers, and requirements in the mining and construction industries), Industrial Fire-Fighting (basic to advanced), First Aid (Level A, Level B and first aid for kids) and Emergency Evacuation Planning.
Get in touch with BIC training on Facebook