Namibia's 43-percent youth unemployment is a time bomb waiting to go off. At KAYEC, we incubate the new ideas that education officials require to defuse it. How will you get involved?
Volunteering
Volunteers are the heart of KAYEC's school support for kids aged 10–18. Each of our centres has dedicated local volunteers doing activities with dozens of teens every afternoon – in Windhoek, Ondangwa, Otjiwarongo, Outjo and Rundu. Whether you're a university student or qualified teacher who wants to give kids a boost in maths or science, or you enjoy sharing your talents in sports or art, this can be one of the most rewarding experiences of your life. Local volunteers get training and a small stipend.
KAYEC also welcomes volunteers from other countries: We have worked with fellows from the Young African Leaders Initiative, the U.S. Peace Corps and more.
Interested in volunteering? E-mail us: We would love to hear from you.
Working with KAYEC trainees
KAYEC's skills training courses are full of capable, trustworthy youths who we are happy to recommend for entry-level vocational work. Your organisation can offer either job attachments (unpaid, short-term positions that trainees do just before they graduate) or job placements (paid positions that KAYEC helps you recruit for, from among our recent graduates). Leading Namibian companies such as Murray & Roberts and Wesco are among those taking advantage of this service.
We also offer affordable training in forklift operation and other high-demand skills for your existing employees.
Corporate sponsorship
KAYEC's corporate sponsors make it possible for us to offer the school support that solves unemployment at its root, by helping young Namibians stay in school, achieve on exams, and learn the skills to make our communities great. Since 2016, private-sector leaders at B2Gold and FNB are backing these services for a total of 300 learners (see story), and we are looking for sponsors to continue this model for another 420 learners in Windhoek, Okahandja and Ondangwa – as well as expand to new locations.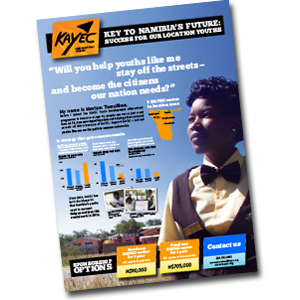 Funding one KAYEC school support centre for one year (about 170 children, plus comprehensive co-branding) costs N$750,000. Funding 30 children at an existing site costs N$90,000. For details, see our partnership one-pager (PDF, 487 Kb).
Our corporate partners receive regular national media recognition and branding, and each centre can reach hundreds of children on targeted topics that match your priorities, such as entrepreneurship or the environment.